Saturday, January 1, 2011
Do you like this deal?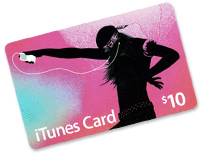 Right now you can score a free $10 itunes gift card for following the step here. You get the gift card for trying iDrive.
**This promotional offer is for new users only. To qualify you must be 18 years or older. Limit one per household. Valid for US residents only. The $10 iTunes Gift Card IDrive promotion is subject to change or cancellation at any time without notice. Note: It can take up to 72 hours, after you have started backing up your data, in order to receive your email confirmation for the promotion.